Climb PACS aims at improving radiology and cardiology workflow. Climb-DICOM Server can archive all images and clinical data, and can give you a strong infrastructure to share the archived data with PACS clients. The advanced PACS solutions also enable users to retain surprisingly increased data and cut an annual budget.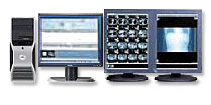 Climb-Radiology WS is a powerful and flexible DICOM-based workstation for primary and secondary review of radiology studies.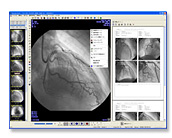 Climb-Cardiology WS is a PC-based cardiology image reviewing and analyzing workstation. The workstation provides enterprise scalability and workflow facilitating users to integrate cardiovascular imaging data. The workstation also helps the users to review primary diagnostic images and analyze them with fascinating image displaying and analyzing tools such as IVUS Long-View, DSA, QCA, and QVA.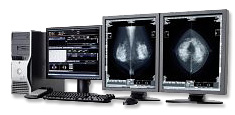 Climb-Mammography WS has two high resolution 15MsP grayscale monitors dedicating to read mammogram images. Also, users can view other multi-modality images, and can edit patient's reports with the third monitor. The 15MsP monitor increases level of diagnostic confidence. A hanging protocol function enables the users to access easily to both current and past studies.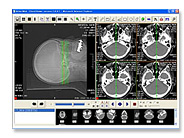 Climb-Web is an on-demand server system to provide one of access points to the clinical reviewed images and related data such as patients' reports. Physicians comfortably refer to the data using a Web browser on a normal PC.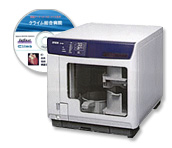 Climb-CD/DVD Publisher is an automatic medical CD/DVD publishing system. The system performs without any other workstations. Also, the system automatically divides patients' study data into appropriate number of data sets, and then records them with CD/DVD(s). Moreover, users can refer to recorded data easily by using a free DICOM viewer included in the published CD/DVD.